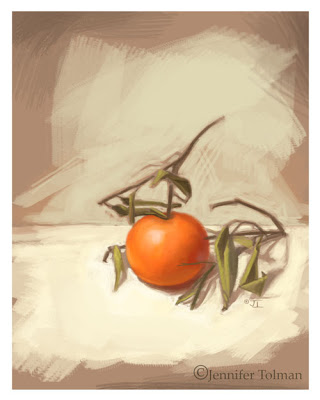 About Jen Tolman
I've known I was a creative person since I was 3. Growing up, I had a strong desire to paint; I've always felt it was part of me. I didn't know exactly what type of art I would pursue, but I knew that it would be religious and spiritually-based. In 2005, I attended BYU-Idaho and majored in illustration even though my original intent was fine art. Looking back, I now I understand how important a background in illustrating was to my style and technique. Some of my main artistic inspirations are the works of Sargent, Leyendecker, and Sorolla. Current artists who influence me are Nancy Guzik, Walter Rane, and Pino. Although fine art is a huge part of my life, my greatest joy comes from when I became a mother at age 23; I now have two wiggly, beautiful works of perfect art.
How would you describe your creative process?
When I had babies around, oil painting wasn't an option. I would do illustrations for children's publications (The Friend magazine, for example) using Photoshop. Now that my kids are getting older, I am getting back to painting fine art with oils.
Painting for me is an extremely spiritual experience. I have gone through some rough times with my health and can empathize more easily with others who are dealing with similar circumstances. My relationship with God has become my whole life now, and that is reflected in my artwork.. I take time to meditate, and it is often during those quiet moments that I have ideas pop into my head. After I have the idea down in my notebook and shoot reference for it, I always pray before I paint. Music also helps me guide me artistically, and the creation process becomes sacred for me. I really just want to paint for God and help others feel the spirit, and I'm not embarrassed to let people know that.
Why do you create?
I want to help people realize God is watching over them, and that He loves us His children. I see a huge need of comfort for those who are struggling with heavy challenges, death, sickness, etc.
What is your biggest challenges to creative productivity since becoming a mother?
Finding the time. Before I would be able to paint all day, and you get in the groove after painting for a period of time. Now I am learning how to re-adjust to paint for small increments of time. I also am trying to paint smaller pieces so I have enough time to finish. I paint during nap times, school time or when other family members are willing to watch them at times.
Looking back on your childhood, who are the people who have been the biggest influence on your work?
When I was young, it would be just random people who drew a picture that impressed me. As I got older and dove more into it, I had an art teacher who really made me feel confident in my work. Walter Rane is an artist who has done multiple paintings for the Church of Jesus Christ of Latter-day Saints and is so inspirational for me. He is related to me through my mom's side, and I met him when I was in my teens. I noticed how not only was he an amazing artist, but he was so genuine and kind. He sent me home with several prints that I still have to this day. I love how his works show so much motion and make you feel like you're in the scene.
What creative work are you most proud of and would like to have featured on this site?
Well, I recently sold my first piece - a painting called "Angel Comfort." It was originally just a practice piece, but I wanted to share it. I'm so drawn to angels at the moment; I feel like they have surrounded me and comforted me through my hard times. I decided to just see if it was acceptable, and they ended up wanting to sell it. I prayed for it to go to someone who needed it; I found out that it was purchased for someone who was going through a difficult time. I really hope it uplifts and comforts her through her trial.
Please add anything else you'd like to share.
I've learned that true happiness comes from serving God. I feel so completely at peace and happy with my life when I am giving up my will for His. Sharing and loving is all that matters. We're only here for a short time, and we can make a huge difference in the world by just loving and sending that out.
Learn more about Jen Tolman's work
All images copyright ©Jen Tolman.
Copying or reproduction in any form is prohibited without the express permission of the artist.