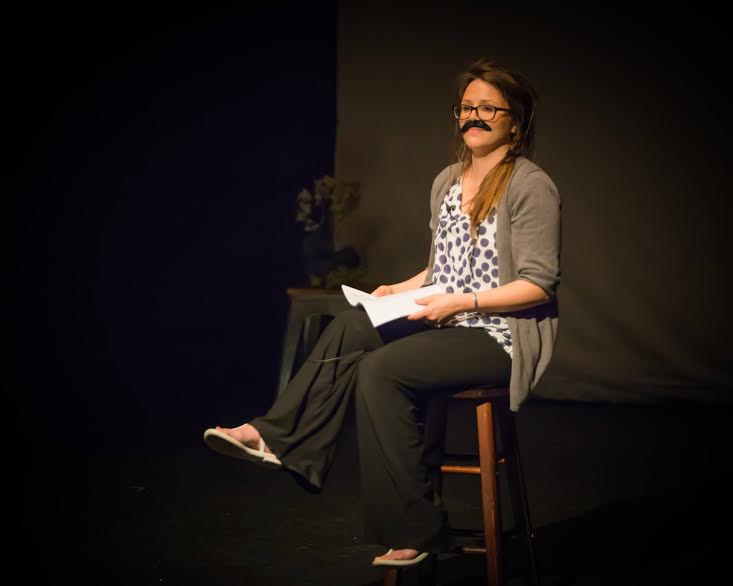 "So tell me about yourself! How many kids do you have?" is a question I have been hearing for years. I used to answer with just how many children I have, as if that was the only thing that defined me. Yes, I am a mother of two (and at ages 3 and 1, they really do take up the vast majority of my time). But like all of us, a wife and mother is not all that I am. I am a woman. I am a songwriter and an artist. I am a creative person.

As a busy mom and part-time dietitian, the needs of others frequently go before my own. But about three years ago, a friend of mine started up the Kansas City Chapter of "Artist, Interrupted" and invited me and a few other artistic women to join. This is a group of individuals who support each other in their commitment to their family and their commitment to their art. We meet monthly to discuss what artistic projects we are working on, what motivates us, what challenges we are facing, and how to seek out opportunities to share our work. Every year, we hold a showcase of our creative work; we rent out a small theater and invite our friends, family, and community to come watch us perform or display our art. Our group of about 20 active members consists of singers, writers, visual artists, and musicians, and we each perform a piece. It is an extremely rewarding experience that not only allows us to share our talents, but also lets those who know us just as "Mike's wife" or "Jacob's mom" to get to see the artistic side of us, the part that others may not know is there.

When we first got started, our group was small; only five women. All of us were mothers of young children. We sat around at meetings and chatted, not really knowing yet what we wanted the group to accomplish. We watched videos of interview with artists, read articles out loud, and shared our own personal art and artistic processes. Not all of us were actively working on something. I hadn't written a song in probably two years, and some of our singers hadn't performed in a long time either. Our experiences and styles varied greatly, but through our monthly meetings we found motivation to begin or continue to work on our art. We knew that everyone else in the group was cheering us on and expecting us to share something in upcoming meetings. I started writing and playing songs again. Our singers found audiences to sing for. Our writers started self-publishing their books. The results were varied, and some of us are still looking for the best way to share our work. But the key is, we are working on and sharing our art, and not just letting our former dreams vanish away in the chaos of life and raising a family.

My relationships with my family and God are more important to me than the songs I write. But through working on my craft, I have learned that God gave me the gift of music and wants me to use it to bring joy into my life and the lives of others. I truly believe that we artists (women especially!) need a support network to keep us motivated not to give up on ourselves and our artistic goals. I honestly don't know that I would be writing songs if not for the support of these incredible women who have become some of my most cherished friends. I encourage all artistic women to find a group or individual(s) who can encourage your expressive endeavors. Cling to them. Talk to them frequently. Share with them. They may be your greatest fan club and your strongest allies in keeping your creative endeavors alive.