Sharra Frank first fell in love with mosaics in 2000 while working on her B.A. in Studio Arts at the University of Minnesota. Though she was studying drawing and ceramics, Sharra was given a school assignment to construct a still-life mosaic, and she fulfilled this by covering a coffee table with china, glass, shells, and beads to create her first ever mosaic. For the next few years, she worked diligently to establish herself, accepting every invitation and opportunity she could to gain experience and perfect her craft. Sharra is now a full-time mosaic artist specializing in public art and commission and also teaches mosaics through her private studio and as a visiting artist around the country. She is married with two sons.
City, State, Country:
Minneapolis, Minnesota, United States
Website:
Why do you create?
I'm able to provide an income that my family depends on (I can't imagine fitting mosaic making in my schedule otherwise) and also satisfy my cravings to create beauty through my work; I love seeing my visions and ideas materialize.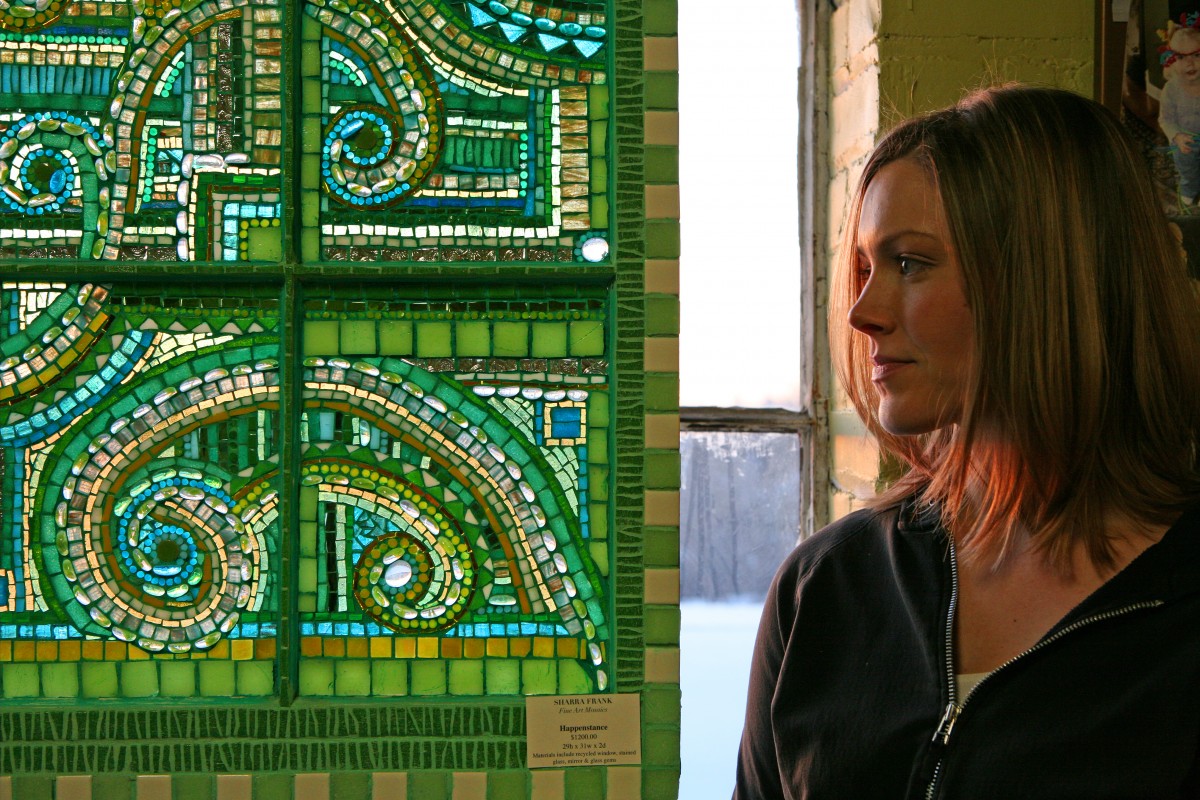 Please describe your creative process:
I select material based on color, texture, and dimension (My materials come from many different places: glass warehouses, junkets, thrift stores, tile shops, etc.). I experiment with line and pattern while building mosaic designs. The process itself is very meditative and also very time-intensive. It takes me several weeks and hundreds of hours to create a large piece.
What are the biggest barriers to continuing your creative work?
One of the biggest barriers I've experienced is having unrealistic expectations of myself when it came to balancing being a mother and continuing my creative work. I thought I should be able to do everything on my own and didn't give myself permission to slow down or take a break. When my first baby was born, I wanted nothing more than to just be with him all the time. I felt burdened by the thought of work obligations, but I had to continue for financial reasons. My business now had overhead costs, and my income contributed in supporting our family.
Right away, in those early newborn months, I received a large commission for the home of a Hollywood film producer, was awarded my first commission with the Children's Hospital and Clinics of Minnesota followed by another over-the-top custom installation for a residential home with a leading local designer. I was called back to my work with the greatest opportunities that I had ever had at that time. With baby in sling, we dove into the studio, and the creativity and passion for my work followed.
My husband and I juggled and tag teamed through the first ten months of our son's life. I continued to bring my baby to the studio with me, and at one point, we even traveled out of state together for a two week artist residency. He made frequent appearances at my classes, job sites and events. He was an exceptionally easy-going baby, and we made a great team. Regardless, I eventually became exhausted, overwhelmed, resentful, and felt like I couldn't keep up with anything. I was going through major burnout. When he started crawling, I found part-time childcare nearby. Accepting help from trusted, nurturing caregivers was a big step and an incredible relief.
It was a lesson I had to learn; since I had a flexible career and was my own boss, I thought there wasn't any reason why I couldn't or shouldn't do it myself. Also, I didn't want to be separated from my baby or take on the high costs of childcare, but had I found support sooner, I would have been better rested, balanced and more present with my creative work and family. Now with two children, I still have the habit of taking on too many new projects, but I'm becoming better at identifying when I'm getting myself in too deep. I've also become better at delegating and accepting help.
If you could give a new mother advice about honoring her creativity while mothering, what would you tell her?
Make it a priority to devote uninterrupted time to your creative practice. Find support and make it a consistent schedule, claiming at least one to two hours a week to start with. Even if you feel tired and depleted, it will revive you. Brene Brown says, "Unused creativity doesn't just disappear. It lives within us until it's expressed, neglected to death, or suffocated by resentment and fear." I have found this to be absolutely true and believe that new mothers are the most vulnerable because it takes a lot rest, time, and resources to feel and be creative.
What work are you most proud of?
I feel most proud when my children are participating in one of our community projects. Our large scale public art mosaics add beauty and life to the parks we play at, our neighborhood co-op, theater, and children's hospital. They see our work in the world and feel an intense sense of accomplishment and community connection.
Currently, I am a lead artist on a series of mosaic panels for a local park that will be installed this coming spring. We have had over a hundred volunteers help in making the mosaics through community workshops. My children have witnessed, firsthand, the beauty of art and collaboration as they see this process unfold from beginning to end. I include them in each step, starting with visiting the site to imagine what we can create for the space. They participate in dreaming up big ideas, see sketches develop, and then help unpack the boxes of tile and glass that arrive on our doorstep. These projects require a lot of my time and attention resulting in some challenges and mixed feelings along the way, but I believe that my children will remember the best parts. They get to feel like part of a team, experience the buzz of excitement during workshops, and make new friends from all generations and backgrounds. They are at the big unveilings and celebrations and see our efforts permanently displayed for everyone to enjoy for years to come.
 
Learn more about Sharra here, or "like" her Facebook page.